Illinois Wesleyan University, St. Augustine College Join ACI
ACI membership grows to 27 colleges and universities
Dec. 7, 2018
ACI added two new member institutions in late fall, which will grow the organization to 27 member colleges and universities in 2019. Together, ACI members include about 70,000 students and 33,000 employees, plus the member institutions' economic impact to Illinois is nearly $3.4 billion.
Illinois Wesleyan University (IWU), Bloomington, rejoined ACI effective Dec. 1, and St. Augustine College, Chicago, will join ACI effective Jan. 1, 2019. Both were approved for membership by vote of the ACI Board of Trustees, said Mick Weltman, ACI executive director.
IWU had been a member of ACI for many years until 2001.

The university provides a combination of liberal arts and sciences with four nationally known professional schools of art, music, theatre and nursing, an exceptional business program and eight highly respected pre-professional programs. IWU's enrollment is 1,693 students. Dr. Eric R. Jensen, university president, has led Illinois Wesleyan since 2015.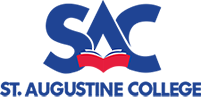 Founded in 1980, SAC is the first bilingual (dual language) institution of higher education in Illinois (and one of only two in the U.S.) to make higher education accessible to a diverse student population. Its emphasis is on those of Hispanic descent to strengthen ethnic identity, reinforce cultural interaction and fill cultural, educational and socio-economic gaps. SAC applies the liberal arts and sciences with a career-oriented focus, enabling students to apply knowledge and skills productively in work-related settings and in all of life's responsibilities. SAC's enrollment is 1,529 students. Dr. Reyes González is president.
Now Available: 2017-2018 ACI Annual Report
Dec. 7, 2018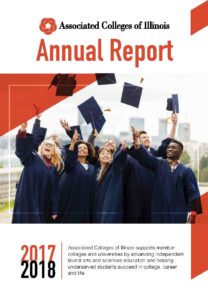 It's here: The 2017-2018 ACI Annual Report!
This new report is filled with information about ACI, including ACI highlights, facts and figures, member colleges and universities, leadership, program descriptions, plus financial information, donors, and corporate partners and sponsors.
Highlighting our report are a dozen student profiles featuring ACI scholarship recipients and Peer Mentoring Program leaders. Profiled are students from members including Benedictine University, Blackburn College, Eureka College, Greenville University, Judson University, Millikin University, McKendree University, Principia College, Rockford University, Trinity Christian College, University of St. Francis and Wheaton College.
Paul Szeliski Joins ACI Board of Trustees
Dec. 7, 2018
At its Nov. 29 meeting, the ACI Board of Trustees approved the nomination of Paul Szeliski to join as a corporate board member.
Szeliski, a Certified Public Accountant (CPA), is a senior associate with Kutchins, Robbins & Diamond, Ltd. (KRD), Schaumburg, Illinois, a CPA firm that offers a full range of accounting and business advisory services.
With Szeliski's approval, the ACI board consists of 34 corporate members, plus the presidents of the 26 ACI member colleges and universities.
Higher Education Headlines
Benefits of Liberal Arts Education