Peer Mentoring Program Applications Available Through June 22
June 6, 2018
ACI member colleges and universities have until Friday, June 22, to apply to host Peer Mentoring Program teams. Up to two campuses will be selected by June 29 to join the institutions already hosting ACI's Peer Mentoring Program. Each new campus will receive funds to host two teams of five mentees and one mentor, engaging a total of 24 students on the two campuses.
In 2017-18, ACI's Peer Mentoring Program served 132 students on nine campuses. Data documenting the results of the program through June 2018 will be available in the next 30 days, with data documenting spring-to-fall retention of 2017-18 freshmen mentees available in late fall 2018.
The Peer Mentoring Program application was distributed in mid-May to more than 50 individuals at 16 ACI campuses not currently hosting mentor-mentee teams. Faculty and staff at ACI colleges and universities who did not receive the request for proposal and are interested in applying for the program should contact Director of Special Projects Leslie Millenson at lmillenson@acifund.org.
25 Members and Growing: Saint Xavier University Rejoins ACI
June 6, 2018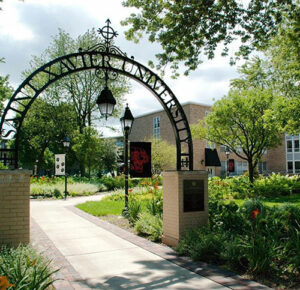 Saint Xavier University, founded and sponsored by the Sisters of Mercy in 1846, officially rejoined ACI June 1. The ACI Board of Trustees approved the university's application for admission at the trustees' annual meeting in April. Saint Xavier is led by President Laurie M. Joyner, and it is ACI's 25th member higher education institution.
Saint Xavier was previously an ACI member until 2002. Addressing the board, Dr. Avis Clendenen, emeritus professor of religion and special assistant to the president, said Saint Xavier is the oldest Catholic university in Chicago, serving 3,900 undergraduate and graduate students. Nursing and speech pathology are signature programs, and it is a Hispanic-serving institution. Its original purpose was to educate immigrants, and today, it continues to serve a significant first-generation student population.
ACI Board Elects New Leaders, Approves Budget, Business Plan
June 6, 2018
The ACI Board of Trustees elected Dr. Jamel SC Wright to serve a two-year term as president of ACI. Wright, who is president of Eureka College, Eureka, succeeded Dr. Barbara A. Farley, who served two terms as ACI president. Farley is president of Illinois College, Jacksonville.
The board made two additional appointments to the ACI Executive Committee. Succeeding Dr. John L. Comerford as member at large is Dr. Gene C. Crume, Jr., president of Judson University, Elgin. Comerford recently left as president of Blackburn College, Carlinville, to become president of Otterbein University, Westerville, Ohio. Succeeding Wright as a member at large is Dr. Eric W. Fulcomer, president of Rockford University, Rockford.  Each new appointment is effective June 1.
With these new appointments, the nine members of the ACI Executive Committee for the next two fiscal years are:
Chair, Board of Trustees: Frank Cella
President: Jamel SC Wright
Secretary-Treasurer: Clifton Fenton
Chair, Advancement Committee: Bill Powell
Chair, Audit and Investment Committee: Clifton Fenton
Chair, Program Committee: Lyn Bulman
Chair, Trusteeship Committee: Jerry Murphy
Member at Large: Gene Crume, Jr.
Member at Large: Eric Fulcomer
Member at Large: Chipo Nyambuya
Board OKs budget, business plan, hears report from executive director
The ACI Board of Trustees approved a business plan and $1.58 million budget for fiscal year 2018-2019, and it approved a series of minor revisions to the ACI Bylaws.
In his report to the board, ACI Executive Director Mick Weltman said the organization achieved more than 25 of its objectives in its business plan for 2017-2018. For the coming year he said the organization wants to return 140 percent of its assessments to member colleges in scholarships, and it wants to approve up to 11 member campuses for its Peer Mentoring Program. A multi-track professional development conference to be held in Chicago is planned for Nov. 2, along with breakfast meetings with wealth advisors and human resources, diversity and inclusion staff.
ACI will continue to build job and internship opportunities for students and micro-internships through Parker Dewey, Weltman said. Foundation gifts to ACI exceeded expectations in 2017-2018. ACI plans to raise more funds though corporations and individuals, plus a major gifts program has been initiated. Ten new corporate members were added to the board of trustees this fiscal year. ACI is also planning for its second Career and Internship Fair in fall 2019, he added.
Higher Education Headlines
Benefits of Liberal Arts Education