Featured Video
Monique Clayborne, University of St. Francis, is a McGraw Foundation Emergency Financial Aid recipient through ACI. She tells about her college experiences and the benefits of the McGraw Foundation funds.
Click here for more information about Monique and other ACI student scholarship recipients.
Associated Colleges of Illinois
MISSION STATEMENT
Associated Colleges of Illinois supports member colleges and universities by advancing independent liberal arts and sciences education and helping underserved students succeed in college, career and life.
THE POWER OF LIBERAL ARTS
FEATURED STORY:
True to Its Mission: Dominican University Educates
Diverse Study Body, Maintains Top Academic and Value
Rankings
President Donna M. Carroll now in her 25th year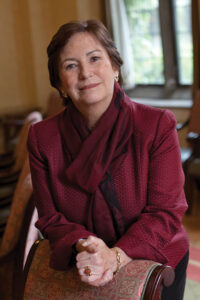 Dr. Donna M. Carroll
President, Dominican University
"50-50-50" is a theme that Dr. Donna M. Carroll frequently uses when she describes Dominican University, where she has been president for 25 years. "We are 50 percent Latino, 50 percent Pell-eligible, and 50 percent first generation in college," she says. "In terms of the distinctive demographic and the impact of the institution, I think that really says it."
Dominican University, in River Forest, Illinois, an embedded suburb of Chicago, is also known for academic excellence, a Catholic Dominican mission that drives social justice advocacy on issues such as immigration reform, undocumented students, affordability and equity, plus commitment to the poor and respect for the individual. These and other qualities have led the institution to a unique position as a top Midwest university educating a significantly diverse student body.
READ MORE