ACI's member colleges and universities are located throughout Illinois. Scroll down to learn more about our members and visit their websites. For a list of addresses, telephone and fax numbers of member colleges and universities, please click here.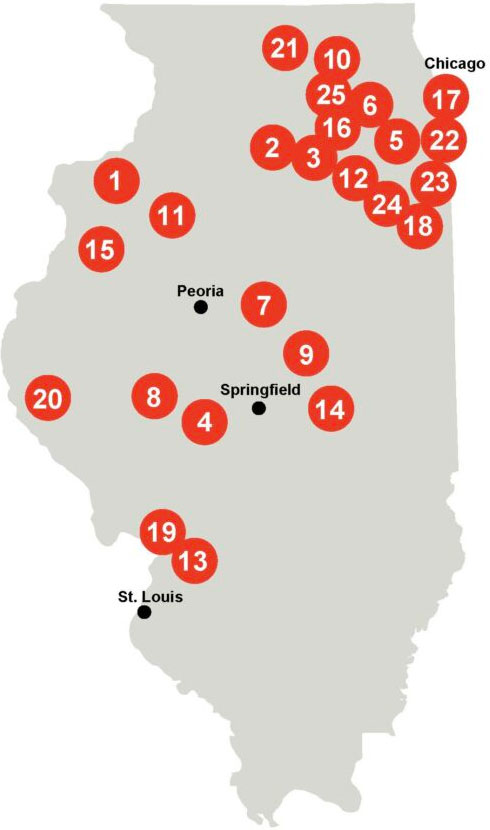 Augustana College
This private, selective liberal arts college near the Mississippi River in Rock Island, Illinois offers students opportunities to be more than scholars — to be well-rounded individuals.
Aurora University
Aurora University traces its origin to the 1893 founding of a seminary in Mendota, Illinois. Today, the university operates two primary campuses: a 37-acre campus in Aurora, Illinois and the 137-acre George Williams College on Geneva Lake in Williams Bay, Wisconsin. The university is accredited by the Higher Learning Commission to award degrees at the baccalaureate, master's and doctoral levels. Aurora offers more than 50 academic majors and enrolls 5,800 students, with a 17-1 student/faculty ratio. Aurora University and George Williams College were instrumental in the formation of ACI in 1952 and are both charter members.
Blackburn College
Offering a coeducational student body with a rigorous, distinctive, and affordable liberal arts education, Blackburn College prepares graduates to be responsible, productive citizens.
Dominican University
A Catholic university committed to respect for divergent opinions and a values-centered approach that embraces the whole person, Dominican offers more than 50 academic majors, including preprofessional and graduate programs.
Elmhurst University
A private, four-year college affiliated with the United Church of Christ, Elmhurst University offers a curriculum that combines liberal learning and professional preparation to equip students for lifelong learning, service and achievement.
Eureka College
A liberal arts and science institution affiliated with the Christian Church (Disciples of Christ), Eureka College cultivates excellence in learning, service, and leadership, leading to meaningful, productive lives and successful professional and social roles.
Illinois College
Recognized among the nation's top 50 liberal arts colleges, Illinois College offers an educational "BLUEprint" that promotes strong oral and written communications, understanding of diverse cultures and beliefs, and problem-solving competence – designed to set students apart in the job market.
Illinois Wesleyan University
This undergraduate-only environment provides extensive personal attention and exceptional opportunities for experiential learning. The depth and breadth of an Illinois Wesleyan education develop habits of inquiry, clear communication and adaptable problem-solving that equip graduates for lifelong success.
Judson University
Judson University is a fully accredited, private Christian institution representing the Church at work in higher education. Nestled along the beautiful Fox River in Elgin, just 40 miles northwest of Chicago, Judson is home to more than 1,200 students from 33 states and 20 countries. Judson offers degrees in more than 65 different majors and minors, has 22 men's and women's competitive athletic teams, and ranks consistently among the Best Regional Universities in the Midwest by U.S. News & World Report. Judson has also been recognized as a "Christian College of Distinction." With an academically challenging environment and encouraging spiritual community, Judson shapes lives that shape the world.
Knox College
One of the nation's most diverse, international campuses and among the top 4% of American colleges in producing successful PhD candidates, Knox offers 60+ areas of study, with experience-internships, independent research, service, study abroad built into the curriculum.
Lewis University
This mid-sized, regional university combines liberal arts education with practical, relevant professional education to advance students' success across a lifetime. Lewis offers more than 100 undergraduate and graduate programs, a wide range of campus activities, a diverse community, and many service-learning opportunities.
McKendree University
Recognized nationally as one of America's finest universities, McKendree offers high-quality undergraduate and graduate courses taught by exceptional faculty, with an educational experience that integrates the values of traditional liberal arts with skills needed to prepare for a career or graduate studies.
Millikin University
A century after it was founded by James Millikin as a university that would embrace the "practical" side of learning along with the "literary and classical," Millikin remains a well-rounded institution, where programs in classical music vie in excellence with those in accounting and the health sciences.
Monmouth College
Monmouth College is a private, selective, residential college, offering majors in the natural sciences, social sciences, arts and humanities, as well as outstanding academic advising, small, seminar-style classes, varied internship and study abroad opportunities, and summer research experiences.
North Central College
An independent, comprehensive college of the liberal arts and sciences offering more than 55 undergraduate majors and graduate programs in seven areas. North Central College is committed to academic excellence; a caring climate that emphasizes leadership, ethics, values, and service; and a curriculum that balances job-related knowledge with a liberal arts foundation.
North Park University
Describing itself as "Distinctively Christian • Intentionally Urban • Purposefully Multicultural," North Park University offers more than 40 majors and programs, including pre-professional options like law, medicine, and art therapy – all built around helping students see how skills, knowledge, and values combine to make both a life and a living.
Olivet Nazarene University
One of the nation's premier Christian universities, Olivet Nazarene combines faith and learning in an environment that challenges students to grow intellectually and spiritually, while they prepare them for exciting careers and faithful, fulfilled lives.
Principia College
Offering a top-notch liberal arts education in a community where practicing Christian Science is the way of life, Principia College enrolls 500 students representing 37 U.S. states and 33 countries, with 25 major fields of study, 17 varsity athletic teams, and 40 different clubs and stunt organizations.
Quincy University
Providing education that combines liberal arts learning with real-world, hands-on academics and Franciscan values, Quincy offers 40 undergraduate majors, as well as a highly successful internship program, practicums, and special assignments that take students outside the classroom to gain professional skills that launch careers.
Rockford University
Rockford University is home to one of only 11 Phi Beta Kappa (PBK) chapters in Illinois and is one of only 81 colleges in the nation named by The Princeton Review as a "College with a Conscience." Rockford offers undergraduate and graduate degrees, with approximately 80 majors, minors and concentrations.
Saint Xavier University
Saint Xavier University is a distinguished four-year , private Catholic institution located on Chicago's southwest side. Founded by the Sisters of Mercy in 1846 and chartered in 1847, Saint Xavier holds the distinctions of being Chicago's oldest Catholic university as well as the first Mercy institution of higher learning in the United States. Initially founded as Saint Francis Xavier Academy for Females, Saint Xavier inaugurated college classes in 1915, became co-educational in 1969 and gained university status in 1992. A values-based institution of Catholic/Mercy higher education, Saint Xavier aims to transform the lives of its richly diverse student population through student-centered excellence.
Trinity Christian College
At Trinity Christian, more than 1,400 students acquire invaluable knowledge in a nurturing environment where dedicated professors integrate a Christian worldview into the curriculum, which encompasses 70 programs of undergraduate study and master's degrees in counseling, psychology, and special education.
University of St. Francis
Consistently ranked among the nation's best universities and identified as a College of Distinction by collegeofdistinction.com, University of St. Francis integrates a liberal education curriculum with a choice of a major in one or more disciplines, internships, research, and service learning – in a welcoming community of learners built on Franciscan values.
Wheaton College
Wheaton College is a Christian liberal arts college and graduate school noted for its rigorous academics, integration of faith and learning, and consistent ranking among the top liberal arts colleges in the country. Since its founding in 1860, Wheaton has been guided by its original mission to provide excellence in Christian higher education. The College offers more than 40 undergraduate degrees and 16 graduate degrees, as well as a diverse range of co-curricular activities that develop students 'For Christ and His Kingdom.'
Benedictine University
Benedictine University, Lisle, Illinois, is a dynamic institution with a diverse and engaged community of students, faculty, staff and alumni. It is grounded in centuries-old Benedictine traditions and is committed to encouraging exploration, enabling potential and nurturing well-being. The university was founded by the Benedictine monks of St. Procopius Abbey in the Pilsen neighborhood of Chicago in 1887. The first building on the Lisle campus was dedicated in September 1901.