College artists created winning entry in digital arts contest
A team from Knox College debuted its winning entry in the second 150 Media Stream/ACI Digital Arts Contest. The entry, "Full-quieting," explored the evolution of artmaking within mass visual culture, with a combination of paint-on-glass animation, claymation and video elements, according to a description from 150 Media Stream.
Team members were James Adamson, left, Elk Ridge, Utah, a junior studying studio art, graphic design and computer science, and Ingrid Wasmer, center, Chicago, a 2022 graduate with a bachelor's degree in studio art and psychology. They worked with Faculty Advisor Tim Stedman, right, Knox College assistant professor of art, to create the video wall display. A public reception and program was held May 3 at the 150 Media Stream display in Chicago. The display was scheduled through Oct. 15.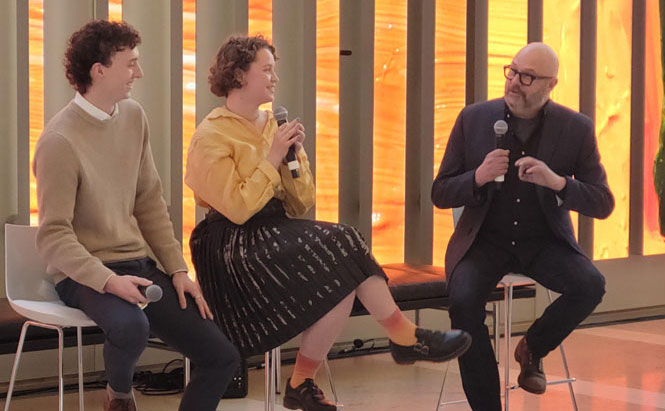 150 Media Stream provided contest cash awards of $1,500 each to the students and faculty advisor, according to Yuge Zhou, 150 Media Stream curator.
The Knox College proposal was the lone entry in this year's contest, open to student teams at all ACI-member colleges and universities. In 2020, a Knox College team of Patrick Steppan and Odessa Sagli, with Stedman as faculty advisor, submitted the winning entry, "Shrouded in Smoke." It debuted at 150 Media Stream in October 2020.
Located at 150 N. Riverside, Chicago, 150 Media Stream is the only structure of its kind dedicated to showcasing local artists alongside renowned and emerging artists from around the world.
1