Helping students succeed in college, career and life through ACI's College-to-Career Programs.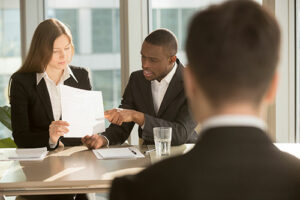 Work and Life Skills Boot Camps: Boot camps help equip students to meet employers' expectations and build rewarding lives and careers. Offered virtually, these sessions give students a leg up on successful job searches, networking, interviewing and workplace performance, as well as managing personal finances. Initial funding for this program was provided by a First Opportunity Partners grant from the Council of Independent Colleges (CIC) with support from the UPS Foundation.
Career Leaders: The ACI Career Leaders Program which launched Aug. 15, 2022, is a collaborative program created to assist with the challenges of career preparation for underserved students seeking degrees at ACI-affiliated colleges and universities. This program has been funded through a First Opportunity Partners grant from the Council of Independent Colleges (CIC) with support from the UPS Foundation and other generous donors.  This program will provide one high achieving senior from each ACI campus access to professional and social development while enhancing leadership skills that will help them successfully launch careers after graduation. Each career leader will be awarded a $2,000 scholarship for recruiting three collegemates to either attend the fall ACI Work and Life Skills Boot Camp or enroll in the ACI Career Mentoring Program.
Each career leader will be selected by the career services staff at member schools.
To help career leaders navigate on their recruitment efforts, ACI developed a toolkit for the student selected from each campus.
Career Mentoring: With our partner, Mentoring Complete, upperclassmen
at member institutions develop mentoring relationships with successful business professionals who can help them build their brands and guide them through the basics of business etiquette and other key success factors. Students are matched with a career mentor based on an algorithm that helps identify areas of development that are most important to the student. Mentees develop a better understanding of how to translate what they've learned in the classroom into the workplace, and in some cases, mentors may assist mentees in finding future career opportunities. Initial funding for this program was provided by a National Venture Fund grant from the CIC.
Visit the Mentoring Complete website to sign-up to become a mentee and to become a mentor.
Micro-Internships: These short-term, paid, professional assignments through ACI's partner, Parker Dewey, take place throughout the year and involve five to 40 hours of work. Students gain opportunities to demonstrate skills, explore career paths and build networks. Employers connect to a skilled and diverse talent pool, improve the effectiveness of hiring efforts and lower the costs (and risks) associated with integrating new employees into their organizations.
ACI | FORVIS Micro-internship Project by Parker Dewey: To help increase awareness and engagement for micro-internships, FORVIS LLP will sponsor ACI's Micro-Internship Project in the "ACI /FORVIS Micro-Internship Project by Parker Dewey." This expansion effort launches on Sept. 16, 2022. Each ACI-affiliated campus will appoint a student ambassador who will  recruit 10 classmates to apply to four or more of the available micro-internships. These opportunities are available on the micro-internship project website.
Students will be compensated for their participation in the program. Student ambassadors will be awarded a $600 stipend for their recruitment efforts. One lucky micro-internship applicant from each campus (selected through a computer lottery) will be awarded a $500 scholarship while the other nine project participants will be awarded a $100 gift card for completing program requirements. Student ambassadors can self-recruit and apply for micro-internships.
To help students with the application process and internship experience, ACI has designed a training video to coach students on navigating the application process, marketing themselves to employers, delivering strong results on the job and maximizing the internship experience.
ACI's Statewide Career Professionals Network: ACI has built a network of career services professionals across its member campuses. Through annual surveys to assess needs and learn about challenges and opportunities in the field, ACI is creating new opportunities for employers to connect to this valuable network – and to thousands of students this network represents.